These soap bars are great to clean your body naturally, and the epsom salt helps to soothe sore muscles at the same time. They are super fun to make, and they look so cute! You'll absolutely love how soft they make your skin feel after a nice scrub. And the best part is that you can customize these soaps with your favorite oils! Peppermint, wintergreen, Soothing Blend, and marjoram are especially great choices because of their muscle-soothing and restorative properties.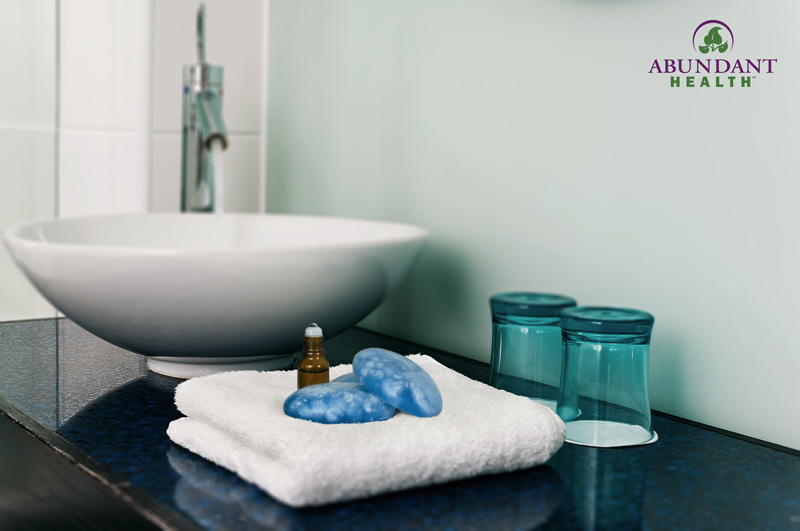 [recipe title="Epsom Salt Soap Bar" time="20 minutes active; 2–3 hours inactive" difficulty="Moderate"]
Ingredients:
Pure glycerin soap base
Mica colorant or food coloring
Essential oils
Silicone soap mold
Spray Bottle of rubbing alcohol
Instructions:
Cut the soap base into cubes, and set half of them aside.
Place half of the soap in a glass dish, and microwave it for 30 seconds. If there are still chunks remaining, return to the microwave in 10-second increments until melted entirely.
Stir in the mica colorant or food coloring until the desired color is reached.
Allow the soap to cool for a few seconds before adding the essential oil. Stir in your essential oils until the desired aroma is reached.
Quickly stir in the epsom salt until the mixture reaches a slushy consistency, and scoop it into your soap molds until 3/4 full. As the mixture cools, press it down into the mold.
While the mixture is hardening, melt down the remaining half of the soap in the microwave.
Repeat steps 3 and 4 with the second batch of soap.
Spray rubbing alcohol onto the first layer in the mold.
Pour the remaining soap into the molds until they're filled, and spray with rubbing alcohol again to help pop the air bubbles on top.
Allow the soap bars to harden for 2–3 hours before removing from the molds.
Scrub sore muscles with these soap bars to help relieve aches and pains!
If you are using hard plastic molds rather than silicone, you will want to spray the mold with cooking spray before pouring the soap into the molds.
Keep in mind that glycerin soap base doesn't create as much of a lather as you may be used to with commercial soaps; however, it still does the job!
If you add the epsom salt in before the mixture has cooled enough, it may dissolve a bit and clump up. It will still work in the soap, but it may have a different look than expected.
[/recipe]