This classic Irish recipe is sure to fill you up and keep you warm this winter! Thyme essential oil adds a subtle, savory flavor to the hearty stew. We've also included an easy recipe for a bed of garlic mashed potatoes since they complement the beef dish so well.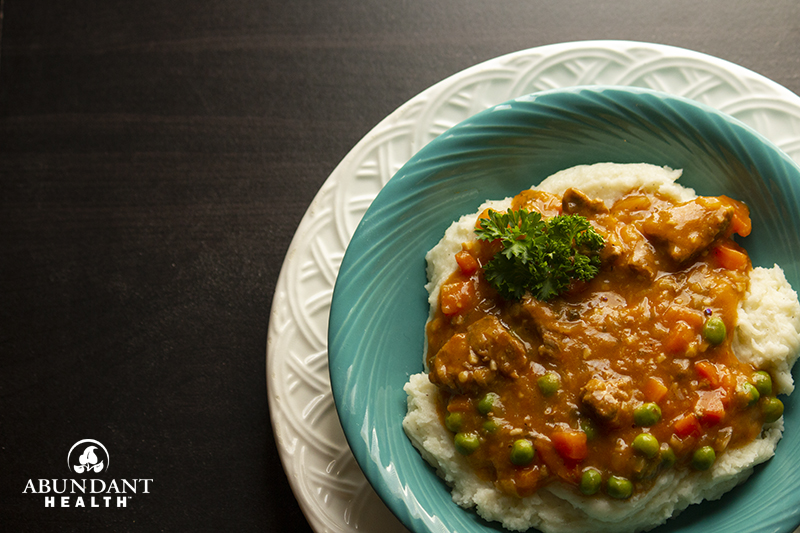 [recipe title="Irish Beef Stew" servings="6″ time="20 minutes active; 90 minutes inactive" difficulty="Easy"]
Ingredients:
1 Tbsp. olive oil
1 lb. beef stew meat, cut into 1-inch cubes
Salt and pepper, to taste
2 cloves garlic, minced (2–3 tsp.)
1 onion, diced
1 leek, thinly sliced
2 carrots, peeled and diced
1/2 c. frozen peas
2 c. beef broth or beef bone broth
1 Tbsp. tomato paste
2 Tbsp. fresh parsley, chopped
2 Tbsp. butter, melted
2 Tbsp. flour
1 bay leaf
Thyme essential oil
Instructions:
Heat the olive oil in a large pot over medium-high heat. Season the beef with salt and pepper. Add the meat to the oil, and brown for 2–3 minutes. Remove, and set aside.
In the same pot, add garlic, onions, leek, and carrots. Saute until tender.
Whisk the tomato paste and beef broth into the vegetables.
Add the parsley, bay leaf, and beef. Season again with salt and pepper, to taste. Bring to a low simmer. Cover, and cook for 90 minutes.
When the soup is nearly done, combine the melted butter and flour in a small bowl. Dip a toothpick in the thyme essential oil bottle, and stir the toothpick through the flour mixture.
Slowly whisk the flour mixture into the soup, and simmer until the soup thickens.
Add the frozen peas, and cook until heated through.
Serve over mashed potatoes (recipe below).
[/recipe] [recipe title="Garlic Mashed Potatoes" servings="6″ time="15 minutes active; 15–20 minutes inactive" difficulty="Easy"]
Ingredients:
2 lbs. potatoes, peeled and quartered
4 cloves garlic, minced (1 1/2–2 Tbsp.)
1/2 c. half-and-half
2 Tbsp. butter
Salt and pepper, to taste
Instructions:
Place the potatoes in a large pot with the garlic cloves, and fill with cold water. Salt the water, as desired.
Bring the pot to a boil, and then reduce heat to medium, cooking potatoes until tender, about 15–20 minutes.
Drain the potatoes, and return them to the pot.
Stir in the butter and half-and-half, and beat the potatoes until smooth with a hand mixer.
Top the potatoes with Irish Beef Stew, and serve it all up nice and warm.
[/recipe]