These lotion bars leave your skin so soft and rejuvenated! The wonderful smell of cocoa butter and coconut oil blends well with any of your favorite essential oils, so you can customize these lotion bars to your needs and favorite smells.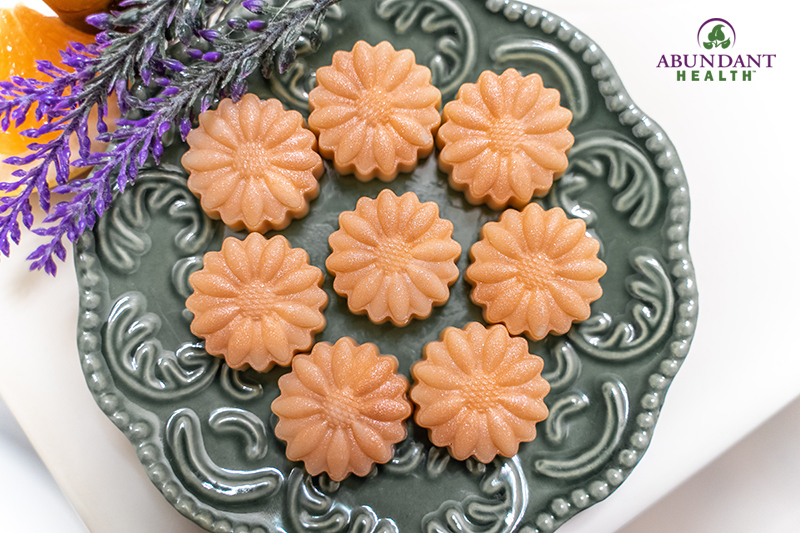 [recipe title="Cocoa Butter Lotion Bars" servings="Yield=8 bars" time="10–15 minutes active; 1–2 hours inactive" difficulty="Easy"]
Ingredients:
3 oz. (85 g) Cocoa Butter Wafers
1 Tbsp. (12 g) Coconut Oil
15–20 drops essential oil
Ice cube tray or silicone mold
Food coloring or mica colorant (optional)
Instructions:
In a double boiler, melt down the cocoa butter wafers.
Add the coconut oil to the cocoa butter, and stir until melted in.
Allow the mixture to cool for a few minutes, and then stir in your essential oils and colorant (if desired).
Pour the mixture into a mold, and place it in the fridge until it is completely solidified.
Once solidified, remove the lotion bars from the mold, and transfer to an airtight container.
Gently rub the lotion bars across your skin, and massage in as needed.
We mixed 10 drops grapefruit with 8 drops lavender for a soothing and relaxing blend, and an added sweet floral scent. Other great oils for skin include peppermint, tea tree, sandalwood, frankincense, neroli, geranium, rosemary, ylang ylang, juniper berry, lemon, orange, lime, and patchouli.
These lotion bars can melt easily if stored in a warm place. Keep in the fridge if necessary.
[/recipe]