Nothing is more comforting than a hot, delicious beef stew on a cold wintry day. Try this hearty slow-cooker recipe with the added flavor and health benefits of essential oils.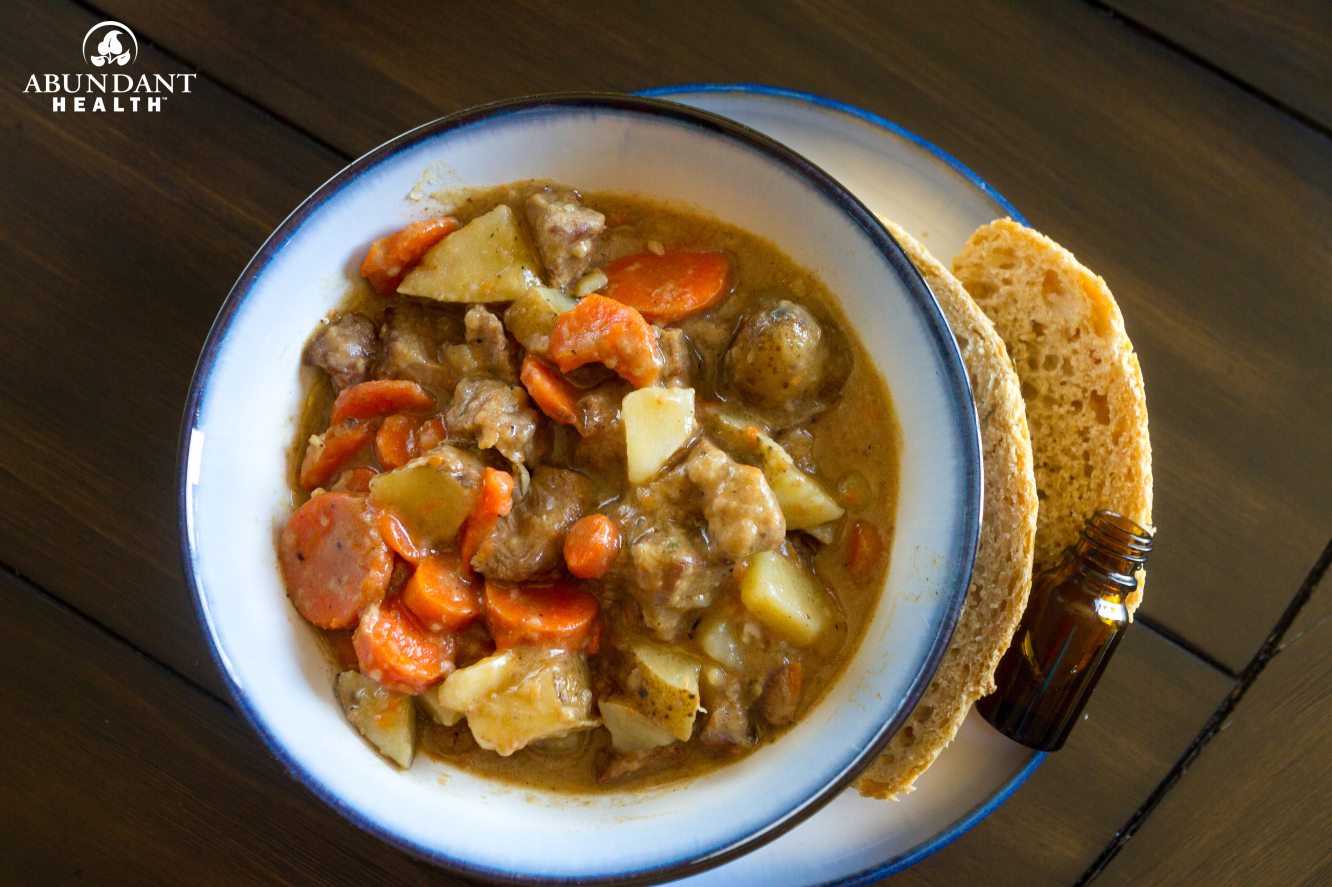 [recipe title="Hearty Crock Pot Beef Stew" servings="6–8″ time="20 minutes active; 7–8 hours inactive" difficulty="Moderate"]
Ingredients:
2 lbs. (1 kg) lean stew beef
3/4 cup (90 g) flour
1 tsp. (2 g) paprika
1 tsp. (3 g) garlic powder
2 Tbsp. (30 ml) olive oil
1 onion, quartered
1 clove garlic, minced
2 cups (480 ml) beef broth
1 tsp. (6 g) salt, or to taste
1 tsp. (5 ml) Worcestershire sauce
1/2 tsp. (1 g) freshly ground black pepper
2 medium dried bay leaves
6 carrots, chopped
6 medium potatoes, chopped into bite-sized pieces
1/3 cup (80 ml) cold water blended with 3 Tbsp. (23 g) flour
5 drops thyme essential oil
5 drops oregano essential oil
5 drops rosemary essential oil
Instructions:
Combine flour, paprika, and garlic powder in a zip-top bag; add beef, and toss to coat.
Heat the olive oil in a large skillet over medium-high heat.
Brown the seasoned and coated beef in the hot oil, searing all sides. Put browned beef into the crock pot.
Add the onion, garlic, broth, salt, Worcestershire sauce, black pepper, bay leaves, carrots, and potatoes.
Cook the beef stew on low for about 7 hours, or until the beef and vegetables are tender.
About 30 minutes before serving, add the flour and water mixture and essential oils to the crock pot. Set heat to high, and cook for about 20–30 minutes, or until the broth has thickened.
[/recipe]