This tangy and sweet dessert is a perfect springtime treat! Cover it with all of your favorite fresh fruits and berries.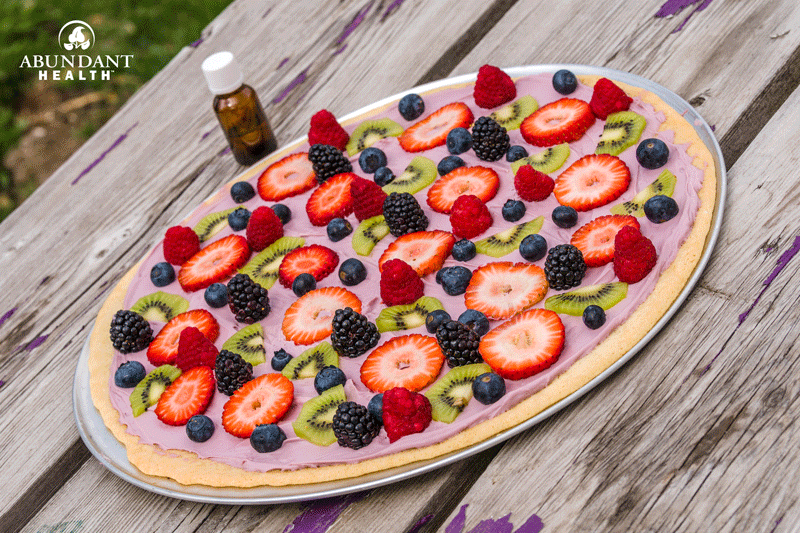 [recipe title="Fresh Fruit Pizza" servings="12″ time="35 minutes active; 1 hour inactive" difficulty="Moderate"]
Ingredients:
1/2 cup butter (1 stick), softened
3/4 cup white sugar (or 1/2 cup agave)
1 egg
1 1/4 cups all-purpose flour
1 teaspoon cream of tartar
1/2 teaspoon baking soda
1/4 teaspoon salt
2 (8 ounce) containers of whipped cream cheese
1/4 cup agave
1/2 cup berry jam (A natural jam or jelly with no added sugar works great.)
2 teaspoons vanilla extract
6 drops lime essential oil
Instructions:
Preheat oven to 350° F. (180° C).
Cream together butter and sugar (or 1/2 cup agave) until smooth. Mix in egg.
Combine dry ingredients; stir into the butter mixture until blended.
Press dough into an ungreased pizza pan and bake 8–10 minutes (until lightly browned). Let cool.
In a large bowl, beat cream cheese with 1/4 cup agave, jam, lime essential oil, and vanilla. Spread on cooled crust.
Top your pizza with any fresh fruit and let chill for an hour. Enjoy!
[/recipe]