Everyone loves a good chicken burrito, and that's why you have to try these! These chicken burritos are so full of flavor, and the essential oils make them even more desirable. They are so easy to make, and super filling at the same time. We've also included a simple recipe for a healthy essential oil ranch dressing that you can include in your burritos or with any other recipe!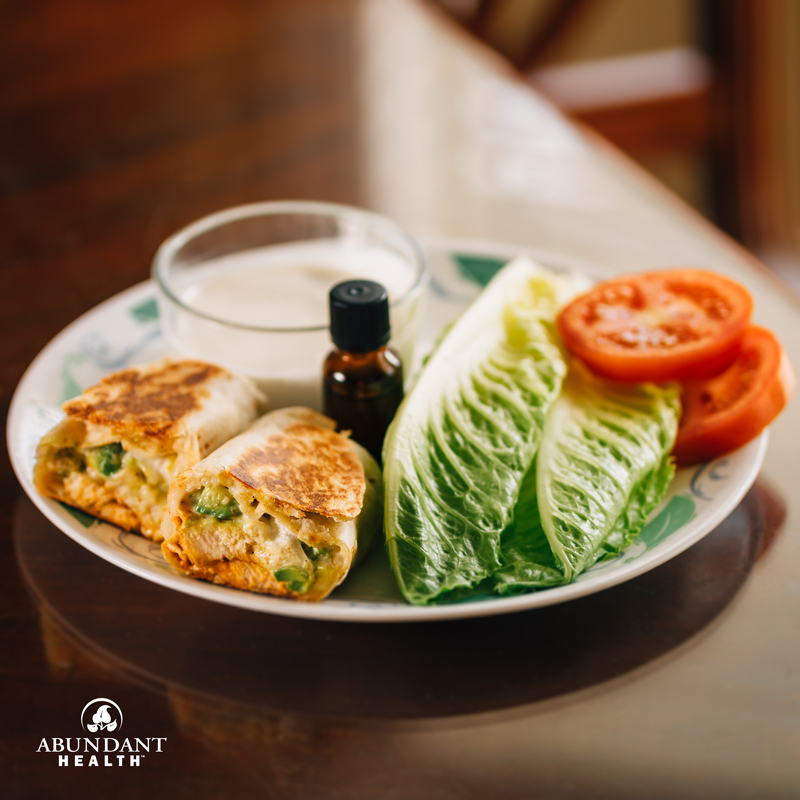 [recipe title="Chicken Avocado Ranch Burritos" servings="4″ time="20–30 minutes" difficulty="Easy"]
Ingredients:
1 lb. (450 g) chicken breasts
1 package (1.25 oz.) taco seasoning
1 Tbsp. (15 ml) olive oil
4 flour tortillas (10-inch)
2 avocados
1 cup (100 g) mozzarella cheese, shredded
1/4 cup (50 g) sour cream
1/4 cup (60 ml) ranch dressing (recipe below)
2 drops cilantro essential oil
Instructions:
Cut the chicken into small cubes, and season with the taco seasoning.
Warm the oil in a frying pan, add the chicken, and sauté until cooked thoroughly.
While the chicken is cooking, dice the avocados and set aside.
In a small bowl, combine the sour cream and cilantro oil.
Begin assembling the burritos by laying down a tortilla, adding some chicken, then avocados, sour cream, ranch dressing, and finally topping it off with shredded cheese. Fold everything up, closing off both ends tightly.
Place each of the burritos in a frying pan over medium heat, and lightly brown each of the sides.
You can use your own seasoning for the chicken to provide a different flavor if desired.
[/recipe]
[recipe title="Essential Oil Ranch Dressing" servings="Yield=1 1/2 cups (375 ml)" time="5 minutes" difficulty="Easy"]
Ingredients:
1 cup (285 g) plain greek yogurt
1/2 cup (125 ml) milk
1/2 lemon, juiced
1 Tbsp. (15 ml) honey
1/2 Tbsp. (2 g) fresh chopped parsley
1/2 tsp. (1.5 g) garlic powder
1/2 tsp. (1 g) onion powder
1/2 tsp. (35 mg) dried chives
1/4 tsp. (500 mg) black pepper
1/4 tsp. (1.5 g) salt
2 drops lemon essential oil
1 toothpick dill essential oil
Instructions:
Place all ingredients in a BlenderBottle®, and shake to combine.
Serve over your Avocado Chicken Burritos, on a salad, or as a dipping sauce.
Depending on your personal preference, you may want to add more salt, pepper, garlic powder, or onion powder.
[/recipe]