These granola cups are so cute—and an absolutely delicious and healthy breakfast option! They can be filled with a variety of ingredients if you want to get creative. They make a tasty dessert if you fill them with pudding, whipped cream and fruit, or chocolate mousse. Or they make a simple, healthy breakfast when filled with yogurt and fruit. They can easily be frozen and thawed if you want to make them ahead of time. The options are endless with this creative and healthy recipe!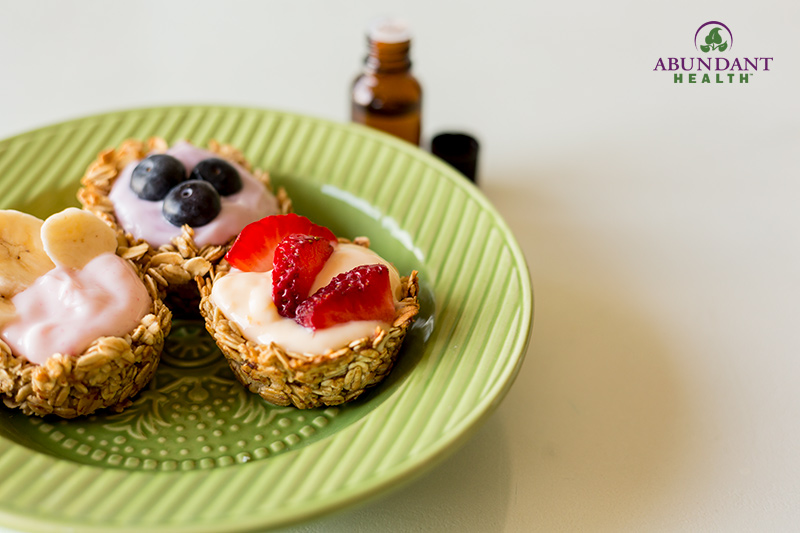 [recipe title="Cinnamon Granola Breakfast Cups" servings="12″ time="10–15 minutes active; 1 1/2 hours inactive" difficulty="Easy"]
Ingredients:
2 1/2 cups (250 g) rolled oats
1/2 cup (115 g) mashed banana
1/2 cup (125 ml) honey
1 tsp. (5 ml) vanilla
1/2 tsp. (3 g) salt
Cinnamon essential oil
Yogurt, fruit, or other desired fillings
Instructions:
In a small bowl, combine banana, honey, vanilla, and salt.
Dip a toothpick in your cinnamon essential oil, and run the toothpick through the liquid batter. Stir to combine. You may want to taste the mixture and add more cinnamon oil until it reaches the desired taste.
Add rolled oats to the batter, and stir to combine thoroughly.
Spoon the mixture into the muffin tins, and press firmly against the edges to form a cup shape.
Refrigerate for an hour. Remove from the fridge, and press firmly into the muffin tin again.
Bake the granola cups at 350°F (175°C) for 12 minutes.
Allow the cups to cool for 20 minutes before removing from the tins.
Carefully remove the cups, and allow them to cool before filling with yogurt, fruit, or other desired fillings.
Notes:
Both old-fashioned oats and quick oats work well for this recipe, but do not use instant oats.
You can substitute applesauce for the mashed banana and agave for the honey if desired.
Turn these into bite-sized snacks for a party by making them in a mini muffin tin!
[/recipe]