When the weather gets chilly, it's a great time to make some—you guessed it—chili. This delicious white bean chili is full of healthy ingredients and makes a warm, delicious, and nourishing meal on a cold day.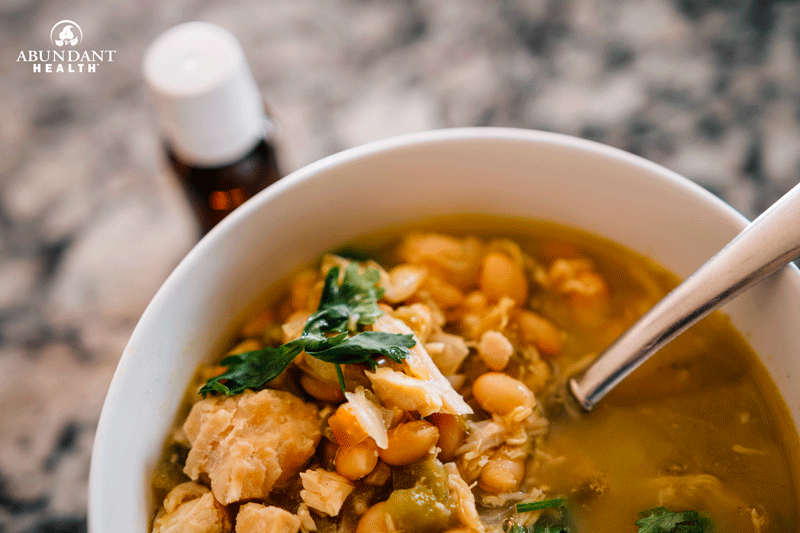 [recipe title="White Bean and Chicken Chili" time="10 minutes active; 1 hour inactive" difficulty="Moderate"]
Ingredients:
2 Tbsp. (30 ml) olive oil
2 lbs. (1 kg) cubed chicken
1 large onion, chopped
4 garlic cloves, minced
1 green bell pepper, chopped
1 tsp. (4 g) sea salt
1 Tbsp. (5 g) dried oregano
2 tsp. (5 g) chili powder
1 tsp. (3 g) cumin
2 (15 oz.) cans white beans, rinsed and drained
1 cup (240 ml) salsa verde
4 cups (1 liter) chicken stock
5 drops fennel essential oil
3 drops oregano essential oil
3 drops coriander essential oil
1/4 tsp. (42 mg) crushed red pepper flakes
Freshly ground black pepper
1/4 cup (4 g) chopped fresh cilantro
Instructions:
In a large, heavy-bottomed saucepan, brown chicken in olive oil (about 8 minutes).
Add the onion, and cook until translucent. Add the bell pepper and garlic, and let cook a few minutes.
Mix in dry spices and salt.
Add the beans, salsa verde, and chicken stock.
Bring the mixture to a simmer. Simmer for 55–60 minutes or until the chili has thickened. Add the red pepper flakes and essential oils, and simmer for another 10 minutes. Season with salt and pepper to taste.
Ladle the chili into serving bowls. Sprinkle with chopped cilantro. You can also add a dollop of sour cream or top with grated cheese.
[/recipe]