Keeping your hands clean is a major component to preventing illness. Sometimes it's not convenient to find a place to wash your hands while out in public, especially with children. There are plenty of sanitary wipes and hand sanitizers at the store to choose from, but why not make your own at home to save money and avoid harsh chemicals? Using essential oils makes these wipes pleasantly fragrant, but also gives them antibacterial, antiviral, and antiseptic properties. They are perfect to take along in your car or in your purse wherever you go!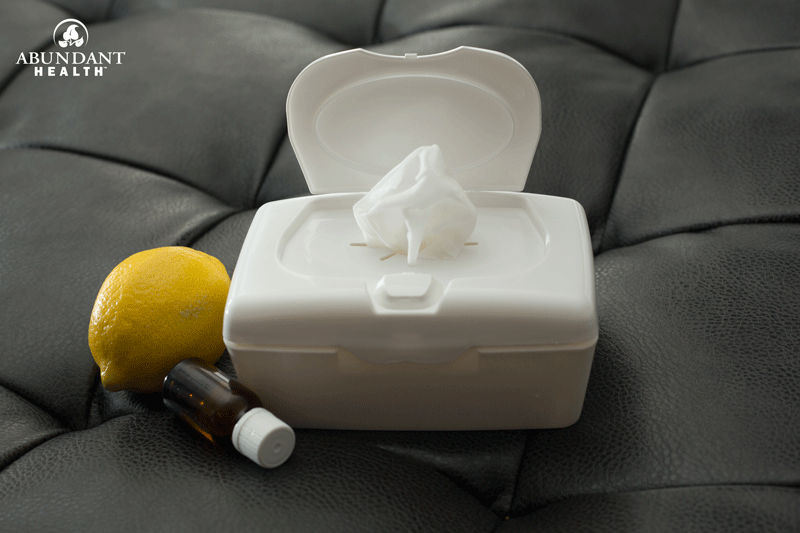 Sanitary wipes are simple to make with items you may already have at home. Use napkins, paper towels, or unscented baby wipes. Pile your dry wipes into a container with a lid (this can be a used wipe container, plasticware, or even a zip-top bag), and then pour this solution over them.
[recipe title="Sanitary Wipes Solution" servings="Yield=380 ml" time="5 minutes" difficulty="Easy"]
Ingredients:
1 1/2 cups (360 ml) warm water
1 Tbsp. (15 ml)  Fractionated Coconut Oil
1 tsp. (5 ml) rubbing alcohol or witch hazel
4 drops lavender essential oil
4 drops lemon essential oil
Instructions:
Mix all ingredients together.
Pour this mixture over your paper or cloth product. Allow it to soak in, and seal the container.
These wipes will last a couple of weeks. Add water if they start to dry out.
[/recipe]