This Greek-inspired dish is sure to be a dinner hit. It's super simple, and it tastes delicious. The lemon and rosemary essential oils add a really tangy flavor that you'll love! If you're looking for a great new chicken dish, then this is the one for you!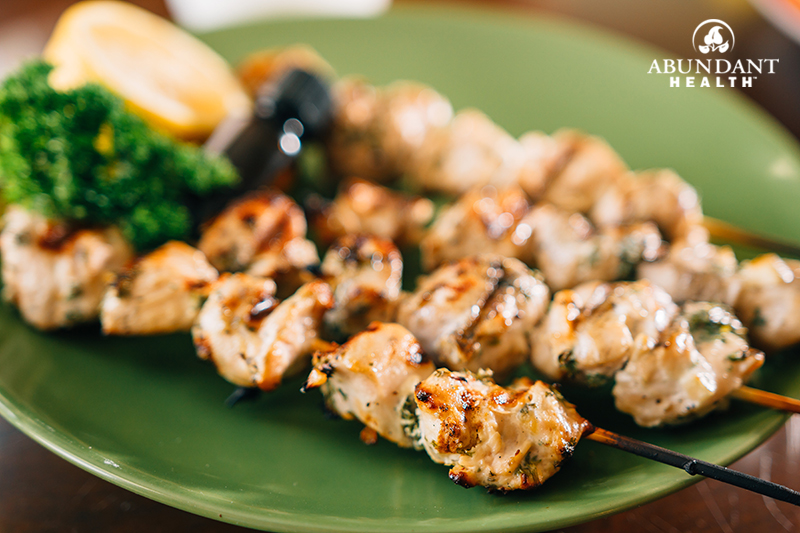 [recipe title="Lemon Rosemary Chicken Skewers" servings="6″ time="30 minutes active; 1 hour inactive" difficulty="Easy"]
Ingredients & Supplies:
2 lbs. (1 kg) chicken breasts
1/2 cup (140 g) plain greek yogurt
1 tsp. (5 ml) olive oil
3 cloves garlic, minced
1/4 cup (15 g) parsley, chopped
Juice of 1 lemon
1 tsp. (6 g) salt
5 drops lemon essential oil
1 toothpick black pepper essential oil
1 toothpick rosemary essential oil
Wooden skewers
Instructions:
Place the skewers in a bowl of water, and let them soak while you prepare the chicken.
Cut the chicken into 2″ (5 cm) cubes, and place in a bowl.
Combine the remaining ingredients in a BlenderBottle®, and shake thoroughly.
Pour the marinade over the chicken, cover the bowl with plastic wrap, and marinate in the refrigerator for 1 hour.
Once the meat is done marinating, thread about 6–8 pieces of chicken onto each skewer.
Place the chicken skewers on the grill, and cook for 3 minutes on each side, or until lightly browned and cooked through.
Remove skewers from the grill, and serve hot.
[/recipe]