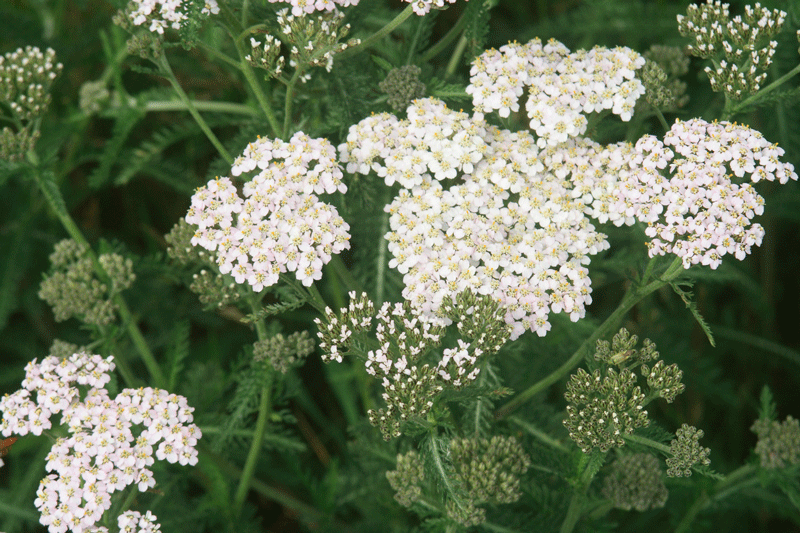 Yarrow essential oil is steam-distilled from the flowering tops of the Achillea millfolium plant. It is prized for its anti-inflammatory, antiseptic, astringent, and styptic properties.
Historically, yarrow was used to by Germanic tribes to treat battle wounds. Folklore refers to yarrow as the treatment that the Greek hero of the Trojan War, Achilles, used to help cure the injury to his tendon. Yarrow is also regarded as sacred by the Chinese for its harmonies of Yin and Yang energies.
Other uses for yarrow essential oil include decongesting the prostate, balancing hormones, treating acne, digestion, bladder, and kidney weakness, diminishing cellulite, and treating colds, eczema, fevers, gout, headaches, kidney stones, infections, and rheumatism.
It can be used topically as well as aromatically. When diffused, yarrow has balancing properties that help aid meditation. It supports intuitive energies and helps clear confusion. It is also excellent in massage blends and used in a warm bath.
To learn more about yarrow essential oil and many other pure essential oils, see the Reference Guide for Essential Oils by Connie and Alan Higley.
Source: Reference Guide for Essential Oils, 2017 Edition, pp. 152–53.