This is a tangy and sweet summer favorite! Experiment with the level of sweetness that you want. If you are trying to avoid refined sugar, try different sweeteners such as agave nectar, stevia, or honey. This lemonade is great with ice on a BBQ day or with a light summer lunch.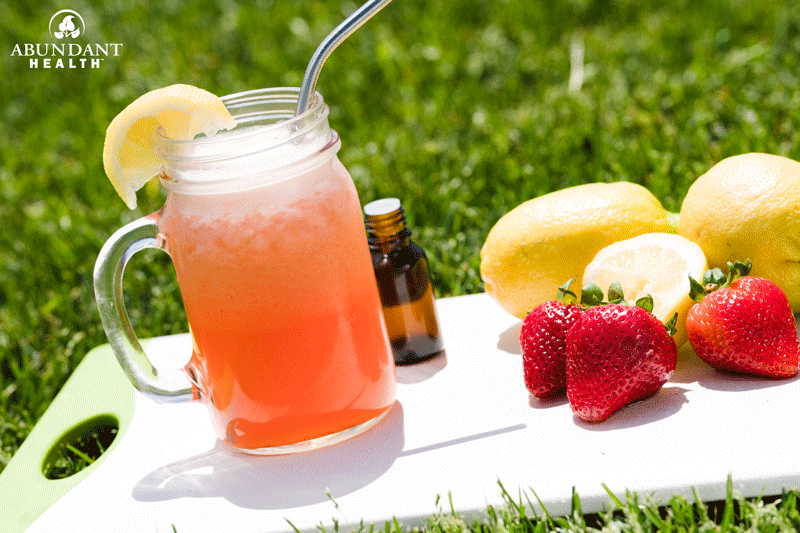 [recipe title="Strawberry Lemonade" servings="12″ time="15 minutes" difficulty="Easy"]
Ingredients:
8 large strawberries (fresh or frozen)
2 Tbsp. (25 g) sugar or 1 Tbsp. (15 ml) agave nectar
7 cups (1.7 liters) water, divided
1 cup (200 g) sugar or 1/2 cup (120 ml) agave nectar
2 cups (480 ml) freshly squeezed lemon juice
3 drops lemon essential oil
Instructions:
Put strawberries in a blender with 2 Tbsp. (25 g) sugar. Pour 1 cup (240 ml) water over the top, and blend until strawberries turn to juice without chunks.

Squeeze enough lemons to make 2 cups (480 ml) of juice.

Combine strawberry juice, 6 cups (1.4 liters) water, sweetener, lemon juice, and lemon essential oil in a large pitcher; stir until blended.

Chill before serving.
For fun and a great look, try this drink with our Mason Jar Mugs and Stainless Steel Straws!
[/recipe]