During the summer, grilling outside is a good way to enjoy the weather and keep the house cool. This recipe is a delicious blend of spices and essential oils that really enhance the flavor of the meat. Enjoy these kebabs with a tossed salad, watermelon, and something cold to drink!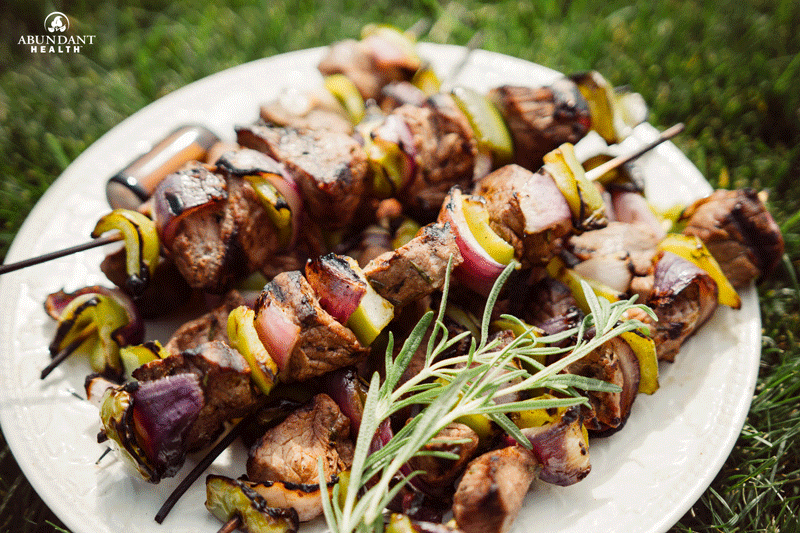 [recipe title="Rosemary Beef Kebabs" servings="6–8″ time="20 minutes active; 8 minutes inactive" difficulty="Easy"]
Ingredients:
2 lbs. (1 kg) beef tenderloin, cut into 1 1/2″  (4 cm) cubes
1 large red onion, cut into chunky pieces
2 green or orange bell peppers, cut into chunky pieces
Dry Rub
2 tsp. (6.5 g) garlic powder
1 1/2 tsp. (3.5 g) ground nutmeg
1 tsp. (2 g) allspice
1 tsp. (2 g) paprika
Salt
Pepper
Marinade
1 red onion, sliced
1 lemon, juiced
1 cup (240 ml) extra virgin olive oil
1 cup (240 ml) red cooking wine
1 tsp (5 ml) crushed garlic
1 tsp. (4.5 g) sea salt
1 Tbsp. (1.5 g) fresh rosemary, finely chopped
2 drops rosemary essential oil
1 drop thyme essential oil
1 drop coriander essential oil
Instructions
Prepare 6–8 skewers. If using wood skewers, soak them in water for an hour before using them to prevent burning.
In a bowl, mix dry rub spices, and then coat the cubed meat with it.
In a large dish, combine the marinade ingredients.
Add the spiced cubed meat to the marinade, massaging it well with your hands. Cover and refrigerate for a few hours or overnight.
Remove the meat from the fridge 1 hour before grilling.
Heat your gas grill to high.
Prepare your kebabs. Slide the meat, onions, and bell peppers onto the skewers, alternating until you run out of room (about 4 pieces of meat per skewer). Set the extra marinade to the side.
Place the kebabs on the grill for about 8 minutes, turning once midway through. Baste meat with some of the marinade while the kebabs cook.
Remove from the heat. Wait 5 minutes before serving.
[/recipe]