Looking for a low-carb alternative to pasta? Welcome to an easy recipe that is vegetarian, gluten-free, and absolutely delicious. Even kids will enjoy this healthy spaghetti substitute with Italian seasoning and essential oil.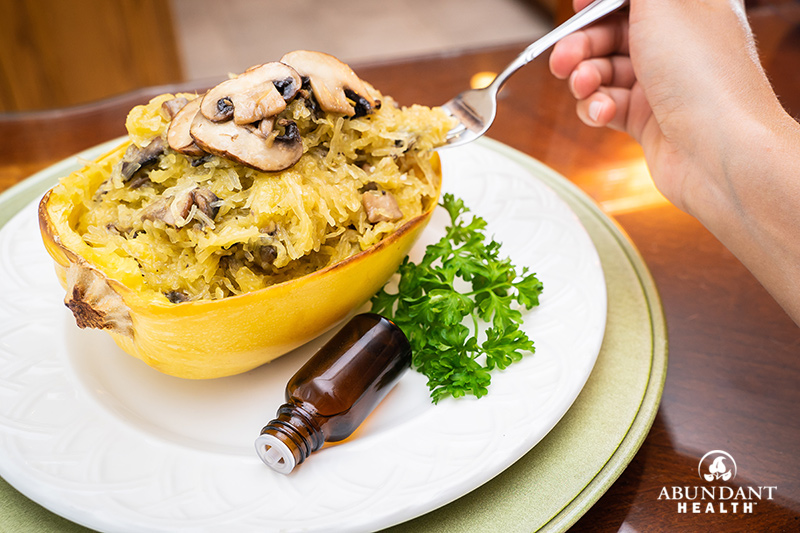 [recipe title="Garlic and Mushroom Spaghetti Squash" servings="4″ time="15 minutes active; 1 hour inactive" difficulty="Easy"]
Ingredients:
2 lbs. spaghetti squash
2–3 Tbsp. olive oil
2 cups button mushrooms*
2 cloves garlic, minced
1/4 cup parmesan cheese
Italian seasoning (to taste)
Fresh parsley (optional)
Salt and pepper (to taste)
1–2 drops thyme essential oil
Instructions:
Cut the spaghetti squash in half lengthwise, and scoop out the seeds.
Drizzle a little olive oil over the inside of the squash, and sprinkle with salt.
Place the squash upside down on a baking sheet, and bake at 400°F for 45–50 minutes, or until softened and cooked throughout.
Using a fork, pull the spaghetti squash from the shell, separating it into noodle-like strands.
In a large skillet, add 2 Tbs. olive oil, garlic, and mushrooms. Cook over medium-high heat until the mushrooms are golden brown.
In a small bowl, combine 1 Tbsp. olive oil with thyme essential oil. Add spaghetti squash and thyme mixture to the skillet, and sauté quickly.
Sprinkle in the parmesan cheese, salt, pepper, and Italian seasoning. Sauté for about a minute more, or until the cheese is melted.
Top with fresh parsley and more parmesan cheese, and serve hot.
*If you're not a fan of mushrooms, you can easily remove them, or swap them out for some meat.
[/recipe]