Life can be really busy, and sometimes it can be hard to find time to prepare good meals that will satisfy the whole family. Here's a great recipe for a classic slow-cooker meal with an essential oil twist! This recipe is super simple and delicious!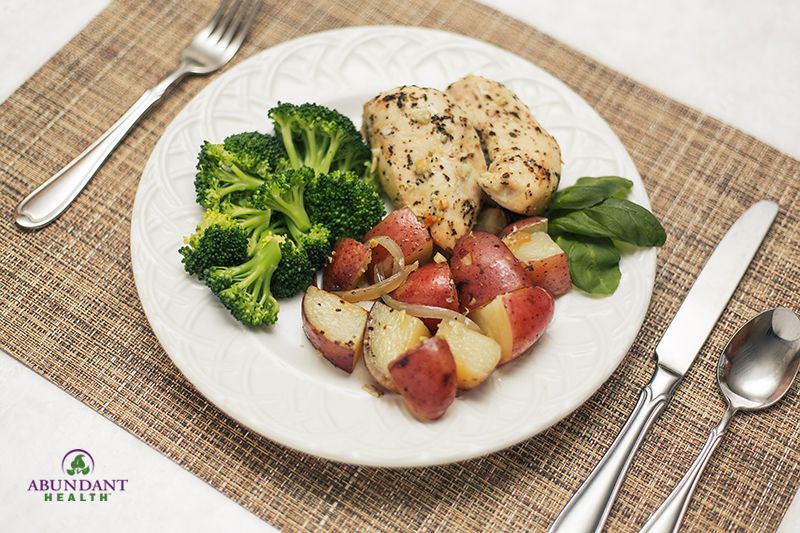 [recipe title="Italian Chicken & Potatoes" servings="4″ time="15 minutes active; 2–6 hours inactive" difficulty="Easy"]
Ingredients:
4 chicken breasts
3 cups (775 g) chopped potatoes
2 cloves garlic, minced
2 tsp. (12 g) salt
1/4 tsp. (500 mg) black pepper
1/4 cup (60 ml) olive oil
Basil essential oil
Coriander essential oil
Oregano essential oil
Rosemary essential oil
Thyme essential oil
Marjoram essential oil
Fresh or dried herbs for garnish (optional)
Instructions:
Place the olive oil in a small bowl. Dip a toothpick into each of the essential oils, and swirl the toothpicks through the olive oil to combine.
Add the chicken and potatoes to a slow cooker.
Pour the oil mixture on top, and stir to coat the chicken and potatoes.
Add the garlic, herbs, salt, and pepper, and stir again to combine.
Cover, and cook on low for 4–6 hours or on high for 2 hours.
Season with salt and pepper to taste, and serve with steamed veggies.
Extra Idea:
Make an Italian seasoning oil blend by combining equal parts basil, coriander, oregano, rosemary, thyme, and marjoram essential oils in a 5 ml dropper bottle. Every time you come across a recipe that calls for Italian seasoning, add 1–2 drops of this blend, or more until your desired taste is reached.
[/recipe]