These little spritzers work great for spraying your linens, towels, curtains, blankets, or the air. You can even help your fake Christmas tree smell real! They'll give whatever you spray a fantastic holiday aroma that you can enjoy during this season.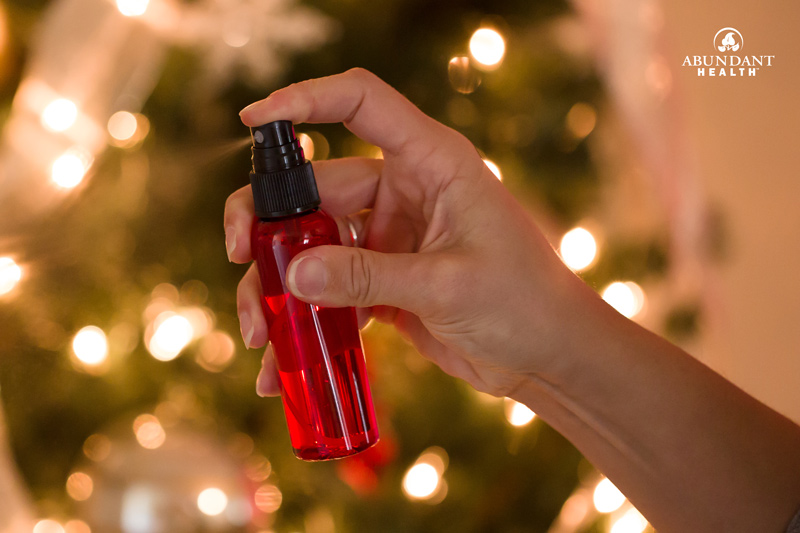 [recipe title="Holiday Spritzers" servings="Yield=2 oz. (60 ml)" time="5 minutes active; 15–30 minutes inactive" difficulty="Easy"]
Ingredients & Supplies:
Instructions:
Mix together the glycerin with your desired essential oil or blend in a glass bowl. Allow this mixture to sit for at least 15–30 minutes to let the oils dissolve into the glycerin. Note: if you are pressed for time, you can just mix it all together in the spray bottle, but you may need to shake every time before spraying to make sure the oils are sufficiently dispersed.
Transfer the mixture into your spray bottle.
Add distilled water to the oil mixture, screw the lid on the spray bottle, and shake to blend thoroughly.
Spray 1–3 times into the air or onto your sheets, towels, curtains, blankets, or Christmas tree.
Essential Oil Blend Suggestions:
Holiday Glow:
2 drops cinnamon bark
6 drops fir
4 drops orange
Winter Wonderland:
2 drops frankincense
4 drops orange
2 drops peppermint
Spiced Cider:
3 drops orange
2 drops cinnamon
1 drop ginger
First Snowfall:
4 drops wintergreen
2 drops fir
Pumpkin Spice:
3 drops cinnamon
2 drops ginger
2 drops nutmeg
2 drops clove
1 drop cardamom
Walking in the Woods:
1 drop vetiver
1 drop juniper
2 drops pine
3 drops fir
3 drops cypress
Candy Cane Mist:
5 drops peppermint
2 drops orange
2 drops fir
Christmas Trees:
3 drops fir
2 drops pine
2 drops cedarwood
1 drop juniper or spruce
Three Kings of the Orient
2 drops frankincense
2 drops myrrh
3 drops orange
Extra Idea:
These little sprays make a great make-and-take activity for an essential oil class. Just bring the above oils, vegetable glycerin, distilled water, and red or green plastic spray bottles to the class along with a 1/2 Tbsp. (7.5 ml) measuring spoon and funnel for easy pouring. Then allow each individual to choose a scent and make a spritzer to take home.
[/recipe]