As we approach the holiday season, it's time to be thinking about giving gifts to friends and family. Don't forget to take a look at our Holiday Gift Guide for some great ideas!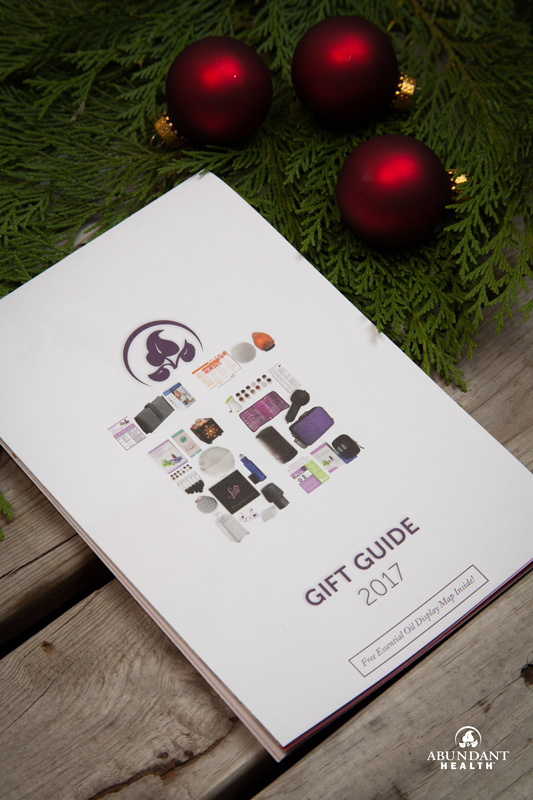 These ideas aren't the only reason you'll want your own copy of this gift guide—it unfolds into an 11″ × 17″ (28 × 43 cm) world map that shows where many popular essential oil plants are grown! This map can be a great tool to use in your essential oil classes to help you educate your attendees or other interested parties. It's the perfect size to frame and display or to pass around for your attendees to unfold and view.
Order your free Holiday Gift Guide today (and make sure to get a few extra to pass out to others) at AbundantHealth4u.com.
As a little sneak peek into the gift guide, we've included this fun bath bomb recipe. It features frankincense and myrrh essential oils (perfect for the holiday season), but feel free to substitute your own essential oil combination if desired. You can get several ideas for oils to use in the Reference Guide for Essential Oils by Alan and Connie Higley. Try looking up oils for relaxation, increased energy, romance, stress relief, muscle pains, or whatever ailment you need help with. These bath bombs make great gifts for neighbors or for anyone who likes taking baths.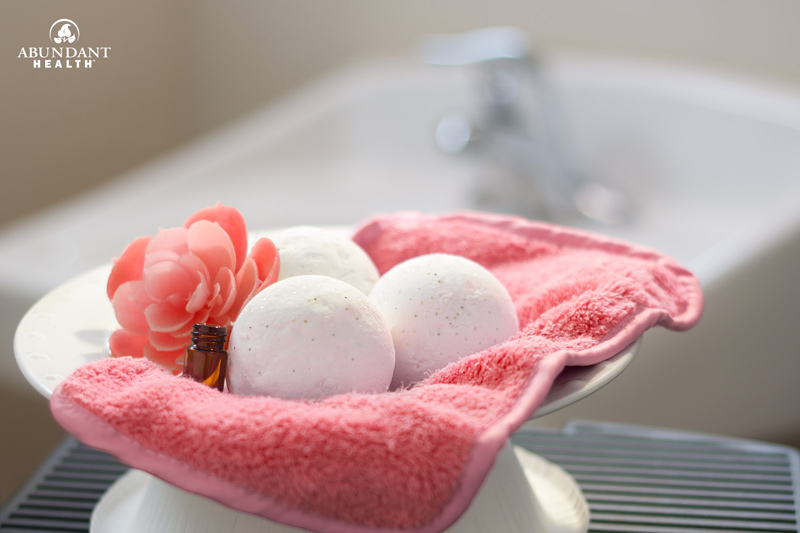 [recipe title="Frankincense & Myrrh Bath Bombs" servings="Yield=4–6 bath bombs" time="20 minutes active; 24 hours inactive" difficulty="Easy"]
Ingredients & Supplies:
1 cup (192 g) baking soda
1/2 cup (64 g) cornstarch
1/2 cup (120 g) Epsom Salt
1/2 cup (100 g) Citric Acid
2 Tbsp. (28 g) White Shea Butter
5–10 drops myrrh essential oil
10–15 drops frankincense essential oil
2 tsp. (10 ml) witch hazel (or water)
Spray bottle with water
Nontoxic or food-grade gold glitter (optional)
Instructions:
Add all dry ingredients (baking soda, cornstarch, epsom salt, and citric acid) to a large bowl, and combine well.
Melt the shea butter, and mix in essential oils.
Carefully mix the melted shea butter and oils with your dry ingredients, adding just a little bit at a time.
Little by little, spray the witch hazel (or water) on the mixture until it begins to clump together, being careful to avoid adding too much moisture.
When the mixture is at the right consistency, press it into the bath bomb molds.
Let the mixture sit in the molds for several hours or until they will hold their shape.
Carefully remove the bath bombs from the molds, and let them set for a minimum of 24 hours.
Extra Idea:
For extra-festive bath bombs, add nontoxic gold glitter to the molds before pressing the mixture into them.
[/recipe]