These tasty treats are full of protein and flavor. Enjoy them with a cold glass of rice or coconut milk for a healthy and delicious snack.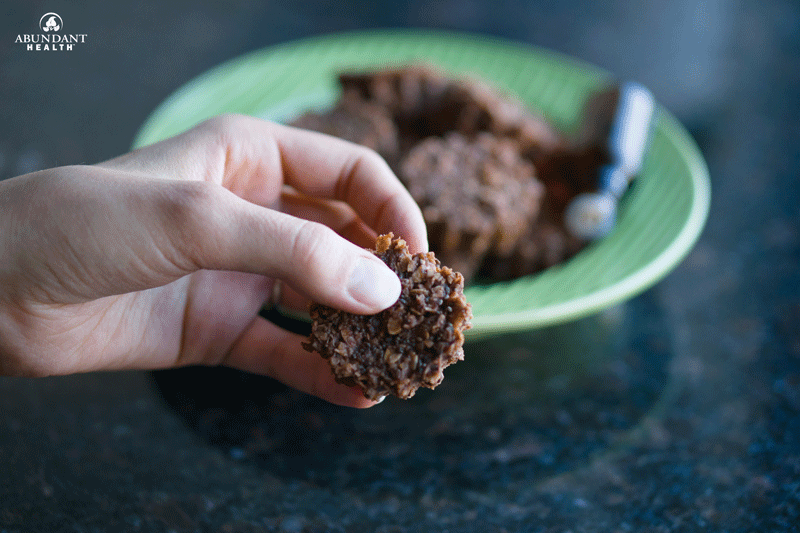 [recipe title="Healthy No-Bake Cookies" servings="20-24″ time="15 minutes active; 30 minutes inactive" difficulty="Easy"]
Ingredients:
1 3/4 cups (158 g) oats (quick or rolled)
1/3 cup (54 g) chia seeds
1/4 cup (24 g) cocoa or cacao powder
Pinch of sea salt
1/2 cup (125 g) almond butter (or other nut butter)
1/3 cup (80 ml) honey
1/2 cup (96 g) coconut oil
3/4 cup (139 g) cooked quinoa*
1/2 cup (55 g) unsweetened shredded coconut
2–5 drops peppermint essential oil (or orange, cinnamon, or cardamom essential oil)
Instructions:
Combine oats, chia seeds, cocoa or cacao powder, and sea salt in a mixing bowl.
In a separate bowl, combine almond butter, honey, and coconut oil. Mix well, and then add cooked quinoa. Stir until well blended.
Thoroughly combine the wet and dry ingredients together.
Stir in 1 drop of essential oil at a time. Taste test the mixture as you add more oil for desired flavor.
Press mixture in silicone molds or form portions by hand and put them on a cookie sheet lined with parchment paper.
Place in the refrigerator until firm.
Store in an airtight container in the refrigerator for up to 1 week.
*Follow instructions for quinoa. Quinoa can also be cooked in a rice cooker as you would white rice.
[/recipe]