Forget popsicles and their empty calories this summer; instead, try making your own healthy frozen treat. These creamy frozen bars are full of vitamins, protein, and flavor! They are healthy enough to count as a breakfast and deliciously sweet enough to be a dessert!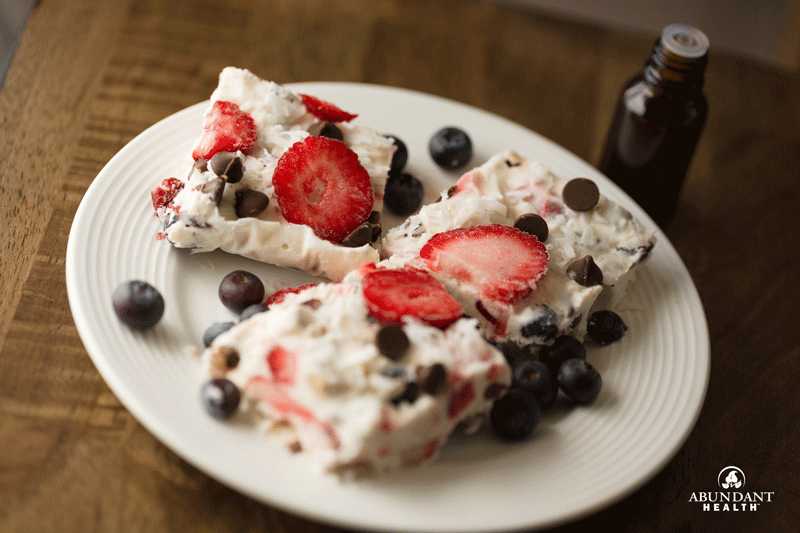 [recipe title="Frozen Greek Yogurt Bars" servings="10″ time="20 minutes active; 2 hours inactive" difficulty="Easy"]
Ingredients:
1/2 cup (120 ml) heavy cream
2 Tbsp. (30 ml) honey
3 drops lemon essential oil
2 cups (480 ml) vanilla flavored greek yogurt
1/3 cup (~40 g) chopped nuts (walnuts or almonds)
1/3 cup (55 g) dried cranberries
1/2 cup (65–75 g) fresh berries, plus extra for garnish
1/4 cup (45 g) semisweet mini chocolate chips, plus extra for garnish
1/4 cup (20 g) shredded coconut
Instructions:
Whip heavy cream with the honey and essential oil until it forms soft peaks.

Add yogurt to the whipped cream, and fold together.
Gently fold in the remainder of the ingredients.
Spread mixture in a 9″ × 13″ (23 × 33 cm) pan. Top with extra berries and chocolate chips, if desired.
Cover tightly with plastic wrap, and place in freezer for a couple of hours.
If kept tightly wrapped, these will stay good in the freezer for 1 week.
[/recipe]