This cream was specifically designed with antibacterial and antiseptic properties, making it the perfect cream for your first aid kit. Coconut oil has amazing properties that will help disinfect cuts and scrapes, and the added essential oils will help soothe and heal the skin. This cream is also kid friendly, so it works great to fix all your children's owies. Keep a bag of cotton swabs with your first aid cream, and use them to apply the cream to your wounds in order to keep the container sanitary. This cream also makes a great giveaway for an essential oil first aid class!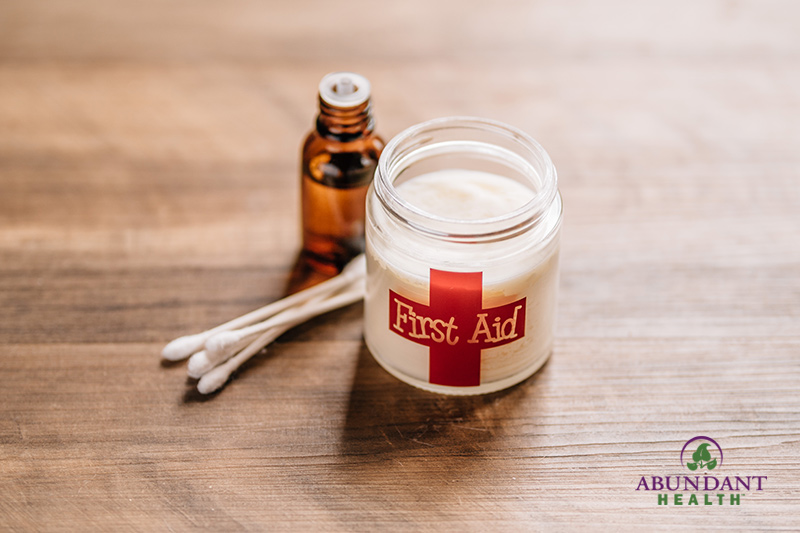 [recipe title="First Aid Cream" servings="Yield=3 oz. (90 ml)" time="20 minutes active; 2–3 hours inactive" difficulty="Easy"]
Ingredients:
Instructions:
Make a double boiler by placing a small, heat-proof container in a medium pot filled partially with water. Place the pot over medium heat.
Place the beeswax and coconut oil in the container, and heat until completely melted into a clear liquid.
Remove from the heat, and mix in the essential oils.
Add the witch hazel, and beat on high with a hand mixer for 30 seconds or until the mixture turns to a smooth, jelly-like consistency.
Pour the mixture into the 4 oz. glass jar, and let it cool completely before using.
[/recipe]