Sinuses are the cavities inside the skull that allow it to be lightweight yet strong. Small channels connect the cavities with the nasal cavity. These channels can become blocked if the mucous membrane lining them is swollen or inflamed as a result of allergies or illness. Blocked sinus cavities behind the cheekbone, forehead, nose, and eyes can result in facial pain or pressure, headaches, and congestion.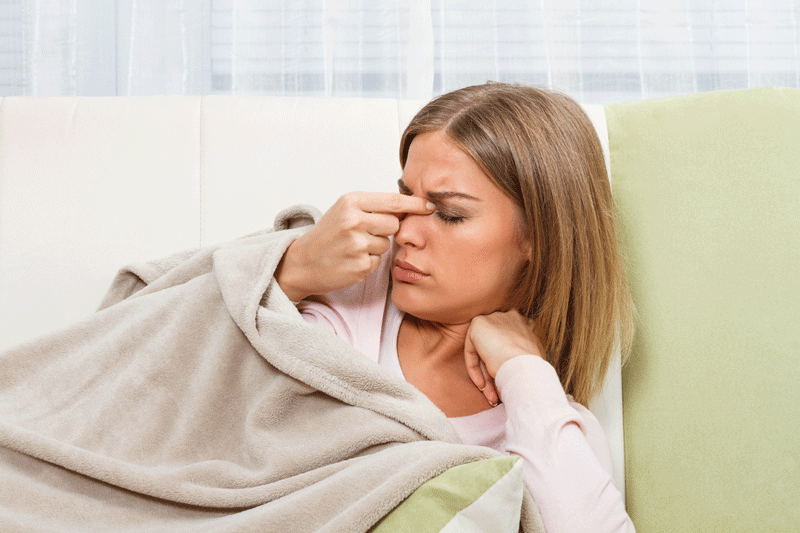 The anti-inflammatory and infection-fighting properties of certain essential oils can be helpful in treating sinus congestion and infections. The following essential oils can be used in a variety of ways to alleviate symptoms:
Eucalyptus
Thyme
Peppermint
Rosemary
Myrtle
Cedarwood
Ginger
Tea tree
Diffuse
Diffusing several drops of essential oil in your environment is a good way to clear the sinuses and hydrate the inflamed mucous membrane of the nasal cavities. Have a diffuser going in the areas where you spend the most time. Consider diffusing by your bedside while you sleep as well.
Hot Bath
Relax in a soothing hot bath. Add 12–15 drops of essential oil to the hot water, and the steam will carry the oils to the affected sinus areas and help thin the mucus.
Massage
Dilute a few drops of essential oil in a carrier oil such as
fractionated coconut oil
or
sweet almond oil.
Massage your pressure points with a mix of oils. Avoiding the eyes, gently rub on the side of each nostril, on the temples, between the eyebrows, and across the forehead.
Hydrate
It is important to drink plenty of water when fighting off infection. Add a drop of essential oil to water or herbal tea. When dealing with children, elderly persons, or pregnant women, use caution when suggesting oils for internal use.
Compress
Soak a cloth in essential oil–infused hot water. Wring it out, and place it over the forehead or face. Relax and breathe deeply.
See the Reference Guide for Essential Oils to learn more about how essential oils can help alleviate the pain and discomfort of sinus issues.
Source: Reference Guide for Essential Oils, 2017 Edition, p. 560.