Hair can be damaged by the weather, hard water, and your daily styling routine. If you color, blow dry, curl, or straighten your hair, there is a good chance that it is damaged. Many of the shampoos and conditioners available at the store may smell good and initially make your hair feel soft, but ultimately dry it out, depriving it of elasticity and shine. Dryness will cause hair to become brittle and dull and break off.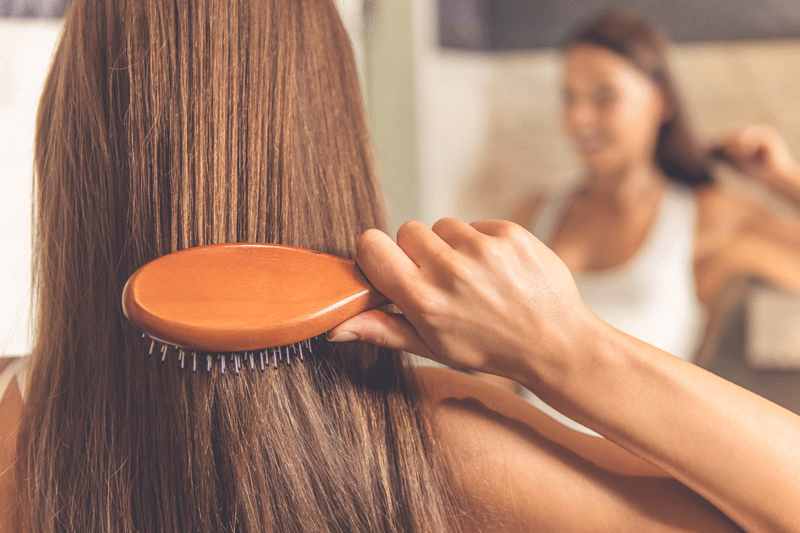 Essential oils can restore luster and strength to your hair. Also, essential oils are all-natural and don't contain dangerous chemicals, making them better for the environment and your home than commercial hair products. In addition to essential oils, you can also use all-natural vegetable (carrier) oils to nourish your hair. Here are just a few oils that will improve the health of your hair and scalp:
Moisturize
Soften 
Shine
Chamomile essential oil
Lavender essential oil
Increase Growth
Cedarwood essential oil
Clary sage essential oil
Strengthen
Geranium essential oil
Rosemary essential oil
How to use essential oils in your hair:
Add a few drops of an essential oil to a quality, natural shampoo or conditioner.
Make your own moisturizing shampoo with essential oils.
In a 2 oz. bottle, mix several drops of the oil combination of your choice into 2 oz. (60 ml) of a carrier oil like jojoba. After you apply the oil mixture from the scalp to the ends, cover your head in a towel or shower cap. Wash out after 30 minutes, or for very damaged hair, leave it on overnight and shampoo in the morning.
When using oils to repair your hair, always wash them out completely. If left in too long, they can make hair limp or oily.
See the Reference Guide for Essential Oils to learn more about how essential oils can improve the health of your hair.
Source: Reference Guide for Essential Oils, 2017 Edition, pp. 483–84.