Wintergreen (Gaultheria procumbens) essential oil is steam distilled from the leaves of the plant. This essential oil contains many health-promoting properties: analgesic, anti-inflammatory, antirheumatic, antiseptic, antispasmodic, disinfectant, diuretic, stimulant (bone), and warming. Wintergreen has a strong, penetrating aroma.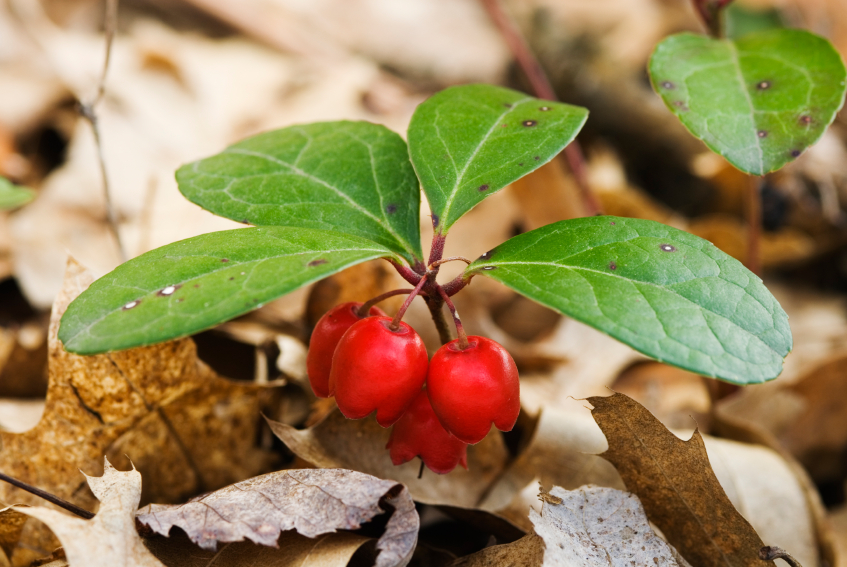 Historically, Native Americans and early European settlers in the New World enjoyed a tea flavored with birch bark, or wintergreen. The French also long used this oil to help with arthritis, cramps, hypertension, inflammation, muscular pain, rheumatism, and tendinitis.
Today, wintergreen essential oil is commonly used to help with dandruff, gout, and muscle aches. It may also be beneficial for these conditions: acne, bladder infection, bone pain, cystitis, dropsy, eczema, edema, fever, gallstones, gout, infection, joint discomfort, kidney stones, lymph congestion (drainage and cleansing), obesity, osteoporosis, skin diseases, ulcers, and urinary tract disorders.
This essential oil primarily affects the body's muscles and bones. Aromatically, wintergreen influences, elevates, opens, and increases sensory awareness.
Safety Data: Avoid use during pregnancy. Not for use on people with epilepsy. Also, some people are highly allergic to methyl salicylate, a chemical constituent of wintergreen. Therefore, we highly recommend that you test for allergy to this oil on a small patch of skin before large-scale application. Wintergreen can be applied neat (without dilution), but only in small amounts. To apply across larger areas of the body, dilute the oil.
Ways to Use Wintergreen:
Diffuser blends are an easy way to experience the aromatic benefits of wintergreen essential oil. Here are a few of our favorites!


Great Outdoors
2 drops wintergreen
1 drop cedarwood
1 drop patchouli
Cold Buster
4 drops eucalyptus
2 drops wintergreen
1 drop frankincense
1 drop rosemary
Fresh Mountain Air
2 drops bergamot
2 drops wintergreen
1 drop cedarwood
Clean and Fresh
3 drops lemon
3 drops orange
2 drops wintergreen

Wintergreen essential oil adds an intriguing twist to any perfume while providing many benefits to the body. For a balancing and energizing masculine scent, combine 6 drops sandalwood, 4 drops fennel, 4 drops cypress, 3 drops wintergreen, 3 drops orange, and 2 drops lime with 2 tsp. (10 ml) carrier oil in a 10 ml roll-on vial. Apply to pulse points on wrists and neck as needed.
Wintergreen is effective for soothing joint pain. As support for arthritis and inflammation, combine 10 drops wintergreen, 10 drops eucalyptus, 10 drops frankincense, 10 drops lemongrass, 8 drops lavender, and 4 drops orange with 2 tsp. (10 ml) fractionated coconut oil in a 10 ml roll-on vial. Apply on location. This blend is highly concentrated, so it should be used sparingly. For frequent application, cut the amounts of essential oils in half and add more fractionated coconut oil to fill the vial.
Dandruff can be pesky and persistent. Wintergreen essential oil is beneficial at fighting the flakes. Combine 3 drops wintergreen with 1 tsp. (5 ml) jojoba oil, and apply the mixture to the scalp (while in the shower) before washing your hair.
Wintergreen works well for back pain. Combine 3 drops peppermint and 1 drop wintergreen with 1 tsp. (5 ml) fractionated coconut oil. Gently massage onto the lower back to help soothe achy muscles and bones.
Source:
Reference Guide for Essential Oils, 2018 Edition, p. 139.