Peppermint essential oil is steam-distilled from the leaves, stems, and flower buds of the Mentha piperita plant. Peppermint is distinctly known for its minty, sharp, and intense aroma.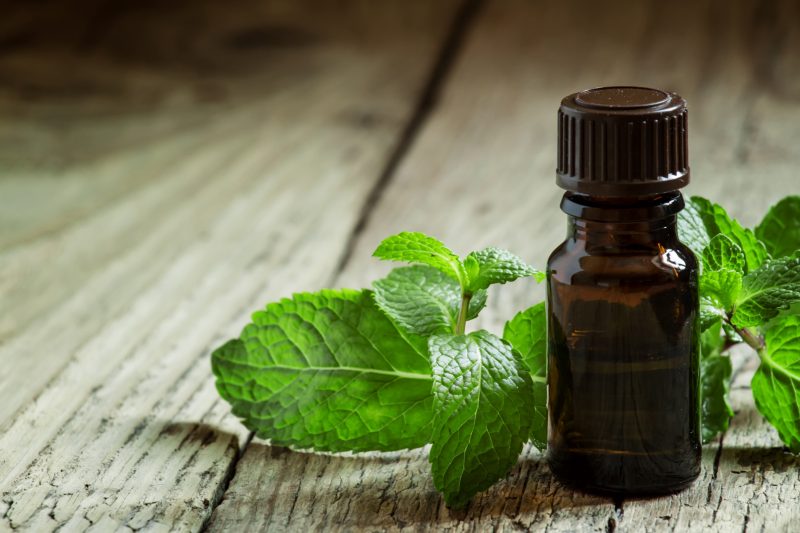 For centuries, peppermint has been used for a variety of purposes. It is known to soothe digestion and freshen breath, as well as treat headaches and heartburn. The French have been known to use peppermint to alleviate asthma, diarrhea, indigestion, migraines, itchy skin, and throat infection. It may also be used to help anger, arthritis, colic, depression, morning sickness, and toothaches.
Today, common uses of peppermint essential oil include allergies, asthma, bad breath, brain injury, carpal tunnel syndrome, cold sores, diarrhea, fainting, gas/flatulence, headache, heatstroke, hives, indigestion, itching, memory, morning sickness, muscle fatigue, nausea, radiation, sciatica, shock, and vomiting.
The antibacterial, analgesic, and anti-inflammatory properties of peppermint make it a versatile in uses that aid the digestive and respiratory systems as well as muscles, bones, and skin.
The aroma is both purifying and stimulating to the mind. It can reduce fevers and increase mental acuity.
Ways to Use Peppermint Essential Oil:
Peppermint essential oil is great for adding a nice mint flavor to anything you're making in the kitchen. It's a healthy, simple way to get that fresh, minty taste we all love. Here are a few recipes that we have loved with peppermint essential oil!

Seasonal allergies affect the best of us. No worries, though—peppermint oil is great for providing relief. Just mix 2 drops of each lemon, lavender, and peppermint essential oils with 1 tsp. (5 ml) fractionated coconut oil. Apply the mixture to the temples, under the nose, and to the bottoms of your feet morning and evening.
Peppermint oil is always a staple when it comes to diffuser blends. The minty fresh aroma is irresistible. Here are a few diffuser blends with peppermint that you can try out.


Breathe Easy
3 drops eucalyptus
3 drops peppermint
Summertime
2 drops grapefruit
2 drops lavender
1 drop lemon
1 drop peppermint
Be Energized
2 drops rosemary
2 drops peppermint
2 drops lemon
Refreshing
1 drop lavender
1 drop rosemary
1 drop tea tree
1 drop peppermint

Peppermint essential oil is great for heartburn and indigestion. Try combining 1 drop peppermint essential oil with 1 tsp. (5 ml) honey in 1 cup (250 ml) warm water. Allow the honey-oil mixture to dissolve completely, and then drink slowly.
For sciatica, combine 5 drops peppermint oil with 1 tsp. (5 ml) fractionated coconut oil in a 5 ml roll-on bottle. Apply to your lower back every 3 hours as needed.
See the Reference Guide for Essential Oils to learn more about peppermint essential oil and many other pure essential oils.
Source:
Reference Guide for Essential Oils, 2018 Edition, pp. 113–14.