Nutmeg essential oil (Myristica fragrans) is steam-distilled from fruits and seeds of the plant. It has a strong, sweet, musky, and spicy odor.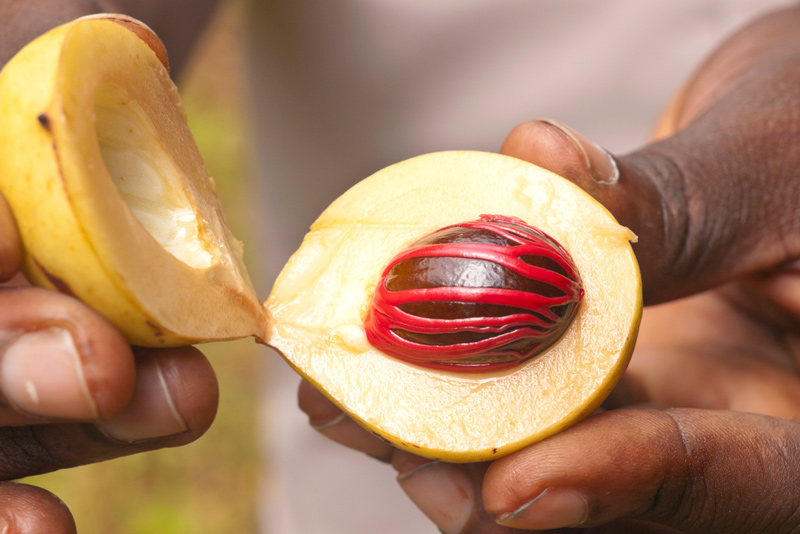 This oil possesses anti-inflammatory, antiparasitic, antiseptic, stimulant (cerebral, circulatory), laxative, and tonic properties.
Nutmeg has been used for centuries for digestive and kidney problems. The French have used it for loss of appetite, chronic diarrhea, debility, digestion (especially in helping the body digest starchy foods and fats), gallstones, halitosis (bad breath), and rheumatism.
It is commonly used for Addison's disease, halitosis, and cooking.
This oil has adrenal cortex–like activity that helps support the adrenal glands for increased energy. Nutmeg may also help arthritis, bacterial infection, circulation, fainting, flatulence (gas), frigidity, gout, impotence, immune function, joints, menstruation (regulates scanty periods and soothes pain), muscles (muscle aches and pains), nausea, nervous fatigue, neuralgia (severe pain along nerve), nervous system support, and vomiting.
The main body systems supported by nutmeg essential oil include the hormonal, immune, and nervous systems.
Since the constituents and properties are pretty similar to cinnamon essential oil, nutmeg can be used in place of cinnamon every once in a while. However, it should be used with care and not too frequently.
Safety Data: Nutmeg essential oil is not for use by people with epilepsy. Use caution during pregnancy. If over-used (several undiluted drops at once), it may cause mental discomfort or delirium and convulsions and could overstimulate the heart. Dilute well or use a single undiluted drop; then wait for a period of time before using more.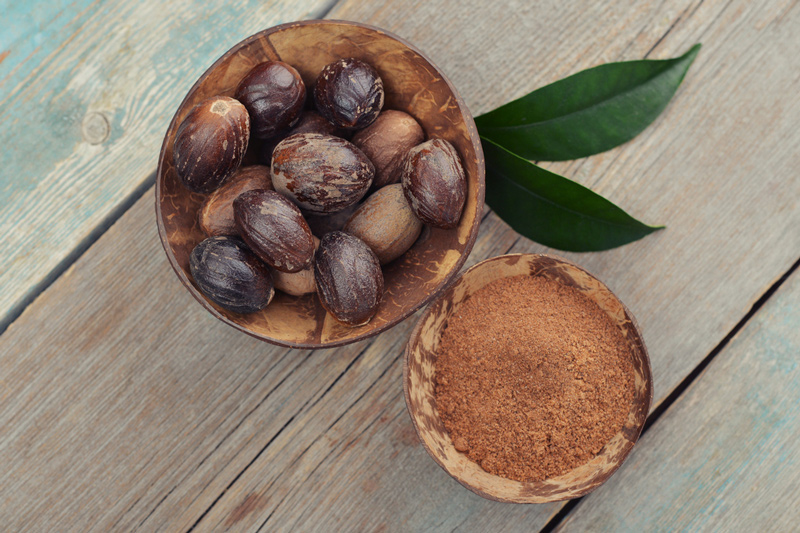 Ways to Use Nutmeg Essential Oil:
Nutmeg essential oil can be used in cooking, but it can be strong; start with a toothpick of oil stirred into the food. Taste, and then add more if needed.
Make a cream using 5 drops nutmeg, 5 drops clove, 10 drops frankincense, and 8 drops rosemary essential oils for relieving arthritis, rheumatic pain, or other joint pain. Use only as needed, and be sure to give yourself a break of a few days between uses.
Add a drop to an epsom salt bath blend along with orange, frankincense, lemon, cypress, patchouli, or rosemary. This is a great oil to add to your bath during the winter months. Try this mixture in your bath: 1/4 cup (55 g) baking soda, 1/2 cup (120 g) epsom salt, and 1 drop each of clove, orange, frankincense, and nutmeg essential oils. Add the mixture to an extremely warm or hot bath under running water.
Diffuse during the autumn/winter months along with orange, clove, and/or cinnamon essential oils. Try one of these blends in your diffuser:


Orange Spice:
5 drops orange
1 drop nutmeg
1 drop clove
Ginger Snap:
3 drops cinnamon
2 drops clove
1 drop orange
1 drop nutmeg
Festive Fall:
3 drops orange
1 drop nutmeg
1 drop clove
1 drop cinnamon
Pumpkin Spice:
3 drops cinnamon
2 drops ginger
2 drops nutmeg
2 drops clove
1 drop cardamom
Click here for more ideas for using nutmeg essential oil.
To learn more about nutmeg essential oil and many other pure essential oils, see the Reference Guide for Essential Oils by Connie and Alan Higley.
Source: Reference Guide for Essential Oils, 2017 Edition, pp. 116–17.