Black pepper essential oil (Piper nigrum) is steam-distilled from the berries of the plant. This oil is known for its strong, spicy, musky, warm fragrance with herbaceous undertones.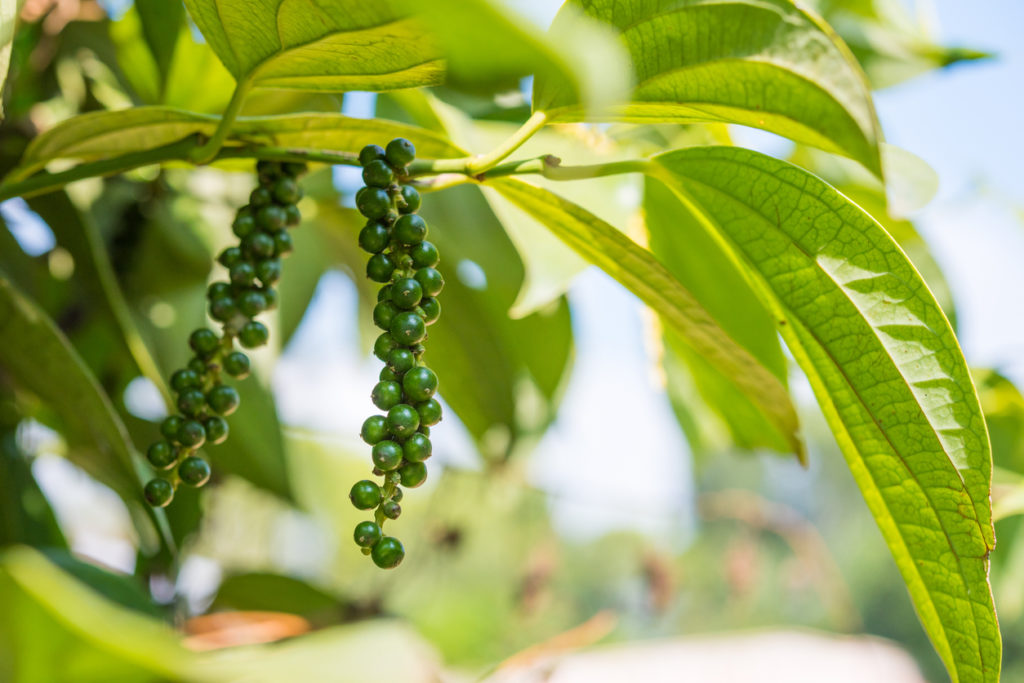 Historically, black pepper was used for thousands of years for malaria, cholera, and several digestive problems. Pepper was used by the Egyptians in mummification, and Indian monks were known to eat black peppercorns to help maintain their incredible stamina and energy.
Black pepper essential oil is most commonly used for fainting. This oil may also increase cellular oxygenation, support digestive glands, stimulate the endocrine system, and increase energy. Other possible uses of this oil include addiction, chills, colds, constipation, coughs, diarrhea, flatulence, flu, nausea, poor circulation, sprains, vertigo, and vomiting.
This essential oil contains analgesic, anticatarrhal, anti-inflammatory, antiseptic, antispasmodic, antitoxic, aphrodisiac, expectorant, laxative, rubefacient, and stimulant health properties. Black pepper primarily affects the digestive and nervous systems of the body. The aroma of this oil is comforting and stimulating and is good for the crown chakra.
Safety Data: Black pepper is recognized as safe by the FDA for consumption, but is not for children under 6 years old, and should be used with caution and in greater dilution for children 6 years and older. This oil can cause extreme skin irritation when used topically if not diluted properly. Test on a small area of the skin before applying directly. If irritation does not occur, you can continue use.
Ways to Use Black Pepper Essential Oil:
Roll-on blends are a great way to apply oils directly to your skin without making a mess. You can apply the blend to the area of concern or to the neck and wrists to allow the oil to quickly be absorbed into the bloodstream for maximum benefits. Simply place the desired oil blend in a 10 ml roll-on bottle, and fill to the top with your favorite carrier oil. Here are some easy roll-on blends for you to use!


Aches & Pains
2 drops black pepper
2 drops Roman chamomile
2 drops marjoram
1 drop lavender
Motivation
3 drops black pepper
3 drops lime
3 drops orange
3 drops frankincense
Reaching Nirvana
6 drops grapefruit
2 drops peppermint
1 drop black pepper
Sore Muscles
5 drops eucalyptus
4 drops peppermint
2 drops ginger
1 drops black pepper

Black pepper has some great aromatic properties, making it a great component in a diffuser blend! Because of how strong the oil is, you may not want to directly diffuse this oil alone. For that reason, we've created a fun diffuser blend for you to try out!
Black pepper oil is great for cooking! The flavor tends to be very potent, so use it in small amounts. Start by dipping a toothpick in the oil, and add more until the desired taste is reached. Here are some of our favorite recipes we've made using black pepper essential oil!
Create a massage oil to help increase your circulation by combining 6 drops black pepper, 3 drops marjoram, and 3 drops rosemary with 2 tsp. (10 ml) fractionated coconut oil. Lightly massage into the hands, arms, feet, and legs.
Make some romance-boosting bath salts by combining 4 drops ylang ylang, 4 drops orange, 4 drops bergamot, 2 drops sandalwood, and 2 drops black pepper with 1 cup (250 g) epsom salt. Pour 1/2 cup (125 g) of the mixture under warm running bathwater.
Sources:
Reference Guide for Essential Oils, 2017 Edition, p. 124.
Aromatherapy Blends & Remedies by Franzesca Watson.