This creamy orzo recipe is delicious—and so simple! Who doesn't love a savory recipe that can be made in 1 pot with little work? The creamy, cheesy basil flavor is to die for; this will quickly become a go-to recipe in your home.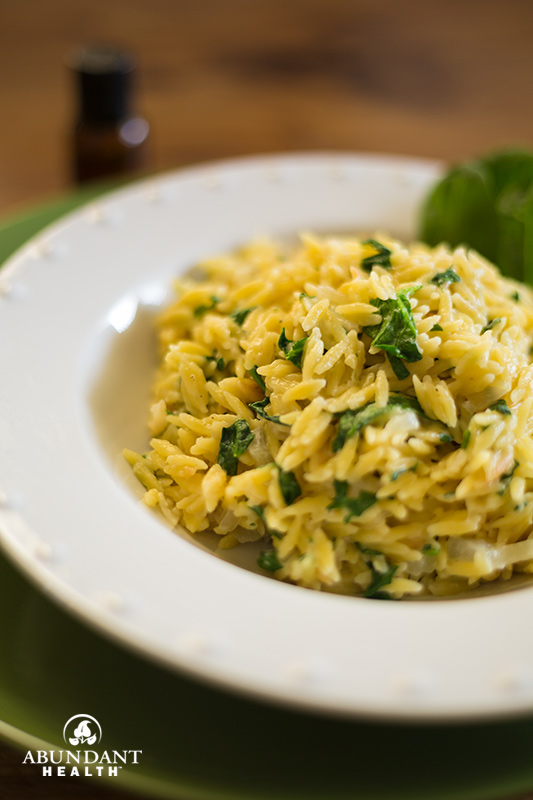 [recipe title="Creamy Basil Parmesan Orzo" servings="4–6″ time="20 minutes" difficulty="Easy"]
Ingredients:
2 Tbsp. (25 ml) olive oil
1 small yellow onion, diced
2 cloves garlic, minced
1 lb. (500 g) orzo pasta
2 cups (500 ml) low-sodium chicken or vegetable broth
2 cups (500 ml) whole milk
2 cups (100 g) spinach, coarsely chopped
1 cup (100 g) grated parmesan cheese
Salt and pepper to taste
Instructions:
In a large frying pan, sauté diced onions in olive oil until softened.
Add garlic, orzo, salt, and pepper, and sauté for a few minutes until fragrant.
Add chicken broth, and milk, and bring to a boil. Cover, and reduce to a simmer.
Cook the pasta to al dente, stirring occasionally, until most of the liquid is absorbed and a creamy sauce is formed.
Stir in the parmesan, spinach, and a toothpick of basil essential oil, and cook for about 1 minute, or until the cheese melts.
[/recipe]