With summer coming up quickly, we could all use an energy boost to keep us going through our activities. These blueberry energy bites are full of nutrients that will give your body the extra boost it needs. Plus they taste like cookie dough, so your kids will love them too! You can't go wrong having this healthy snack on hand.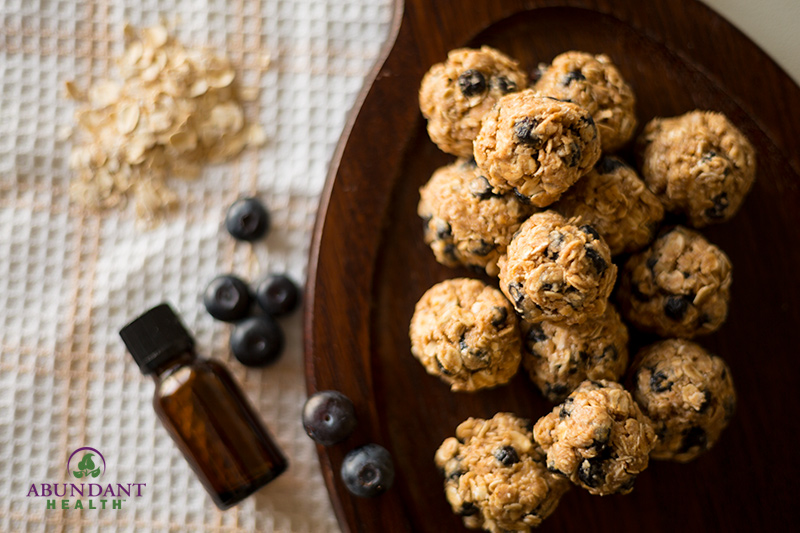 [recipe title="Blueberry Muffin Energy Bites" servings="12″ time="5 minutes active; 30 minutes inactive" difficulty="Easy"]
Ingredients:
1 cup (100 g) rolled oats
1/2 cup (75 g) dried blueberries
1/4 cup (60 g) almond butter
1/4 cup (60 ml) honey
1/2 tsp. (2.5 ml) vanilla
1–2 drops lemon essential oil
1 toothpick cinnamon essential oil
Instructions:
Combine honey, vanilla, and almond butter in a small bowl.
Add essential oils, and stir to combine.
Add rolled oats and dried blueberries, and stir.
Cover and refrigerate dough for 30 minutes.
Using a tablespoon or cookie scoop, divide the mixture into 12 balls, rolling them in your hands to make them smooth.
Enjoy immediately, or refrigerate if desired. These can be refrigerated for up to 1 week or frozen to last longer.
Note: You can also substitute the blueberries with any other dried fruit or nuts.
[/recipe]