Who doesn't love some delicious baked salmon? You will absolutely love this sweet and savory dish. The lemon essential oil adds a wonderful extra tangy flavor. Give this recipe a try—you won't regret it!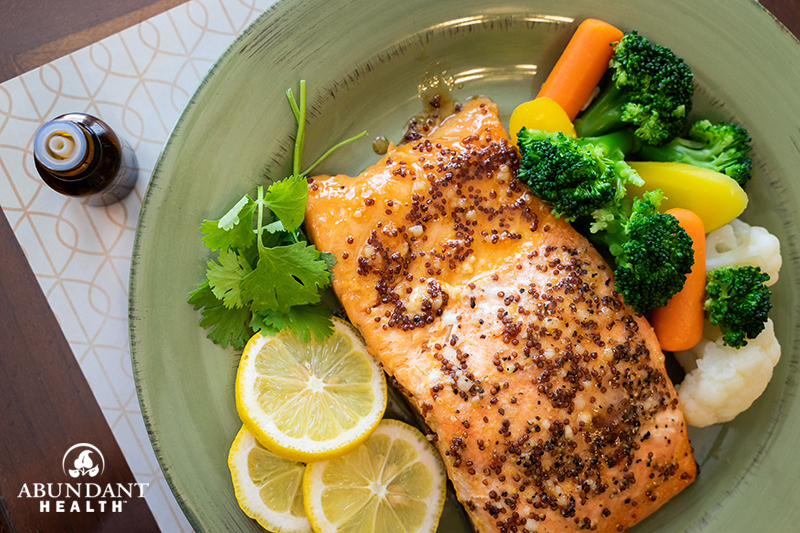 [recipe title="Baked Honey Lemon Garlic Salmon" servings="4–6″ time="10–15 minutes active; 30 minutes inactive" difficulty="Easy"]
Ingredients:
1 lb. (450 g) side of salmon
1/2 cup (125 ml) honey
4 cloves garlic, minced
1/2 cup (125 ml) whole-grain dijon mustard
1/2 lemon, juiced
1 Tbsp. (15 ml) olive oil
1/2 tsp. (1 g) paprika
1/4 tsp. (400 mg) red pepper flakes
1/4 tsp. (440 mg) cayenne pepper
2–3 drops lemon essential oil
1 drop cilantro essential oil
1 drop black pepper essential oil
Salt to taste
Lemon slices for garnish
Instructions:
In a small bowl, combine the honey, garlic, dijon mustard, lemon juice, olive oil, paprika, red pepper flakes, and cayenne pepper.
Add the essential oils to the mixture, stir them in, and set aside.
Line a baking dish with tin foil, leaving enough foil to cover the fish while cooking.
Place the salmon in the lined baking dish, pour the mixture over the fish, and spread out evenly.
Generously sprinkle the fish with salt.
Fold the foil over the fish, sealing the foil on all sides so that the juice doesn't leak out.
Bake the salmon at 400°F (205°C) for about 15 minutes, or until the fish flakes away with a fork.
Carefully open the foil, and broil on high for 2–3 minutes, or until the mixture caramelizes on top and the fish browns.
Serve with veggies, rice, and lemon slices.
[/recipe]